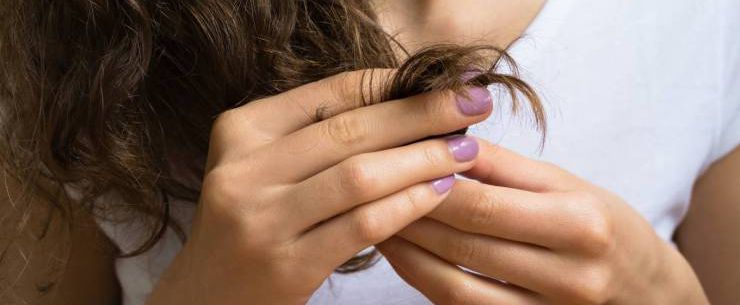 Hair and scalp examinations
Matu kvalitāti pasliktina un to izkrišanu izraisa ļoti daudzi iemesli. Tā var būt gan īslaicīga, gan nepārejoša. Mati var kļūt vājāki pēc ilgas slimošanas, operācijas, antibiotiku lietošanas vai stresa pārpilna dzīves perioda, kad organisms ir novājināts, taču, atgūstot spēkus, matu stāvoklis pamazām uzlabojas.

Pastiprinātu matu izkrišanu, kas nav sezonāla vai kuras iemesls nav bijis pārejoša saslimšana, izraisa dažādi cēloņi vai to kopums, sākot no galvas matainās daļas sēnīšu infekcijām līdz iekšējo orgānu darbības traucējumiem, kas atspoguļojas arī matu veselībā. Tā kā iespējamo cēloņu ir daudz, izšķiroša nozīme ir precīzai diagnostikai. To speciālists veic, pirmkārt, rūpīgi iztaujājot pacientu par tā kopējo veselības stāvokli, sūdzībām, ieradumiem un iedzimtību utt., tad ar trihoskopa palīdzību tiek novērtēta galvas ādas un matu kvalitāte, piemēram, mata stiebra apjoms, miniaturizēšanās, deformācija, cik ir tukšu galvas ādas folikulu atverīšu utt. Nepieciešamības gadījumā pacients tiek nosūtīts veikt asins analīzes, ja ir redzamas galvas ādas iekaisuma pazīmes, tiek veikta galvas ādas nokasījuma analīze. Sarežģītākos gadījumos var būt arī nepieciešama trihogramma, kas būtībā nozīmē no skalpa izrauto matu izpēti ar mikroskopa palīdzību. Retu slimību gadījumā tiek veikta arī galvas ādas bioptāta histoloģiskā analīze. Nereti, atkarībā no analīžu rezultātiem, pacients var tikt nosūtīts uz konsultāciju pie cita speciālista, piemēram, endokrinologa, ginekologa, dermatologa, gastroenterologa u.c..
Kādos gadījumos būtu jāgriežas pie ārsta trihologa
Ja mati izkrīt ļoti intensīvi, apjoms īsā laikā samazinās uz pusi un vairāk, ja mati izkrīt laukumos vai pakāpeniski ilgāk par trīs mēnešiem, ja ir izteiktas galvas ādas problēmas – nieze, mitrošana, kreveles, zvīņas, blaugznas; un ja ir liels psiholoģisks diskomforts matu stāvokļa dēļ.
Trihogramma
Trihogramma ir matu problēmu diagnostikas papildus izmeklēšanas metode. Tā ļauj izmeklēt matu saknīšu stāvokli- noteikt cik procentuāli matu ir katrā no trim augšanas fāzēm, precizēt vai ir displastiskie un distrofiskie jeb izsīkušie mati, noteikt mata stiebra kvalitāti. Lai to veiktu, nepieciešams izraut aptuveni 50 matu. Tas nav īpaši sāpīgi, jo notiek vienā momentā. Izrauj vienā tievā svītriņā augošus matus – pacients pēc procedūras šo vietu pat nevar atrast. To pārbauda laboratorijā, un slēdzienu pacients uzzina nākamajā vizītē. Pirms trihogrammas veikšanas matus vēlams nemazgāt pāris dienas.